Agenda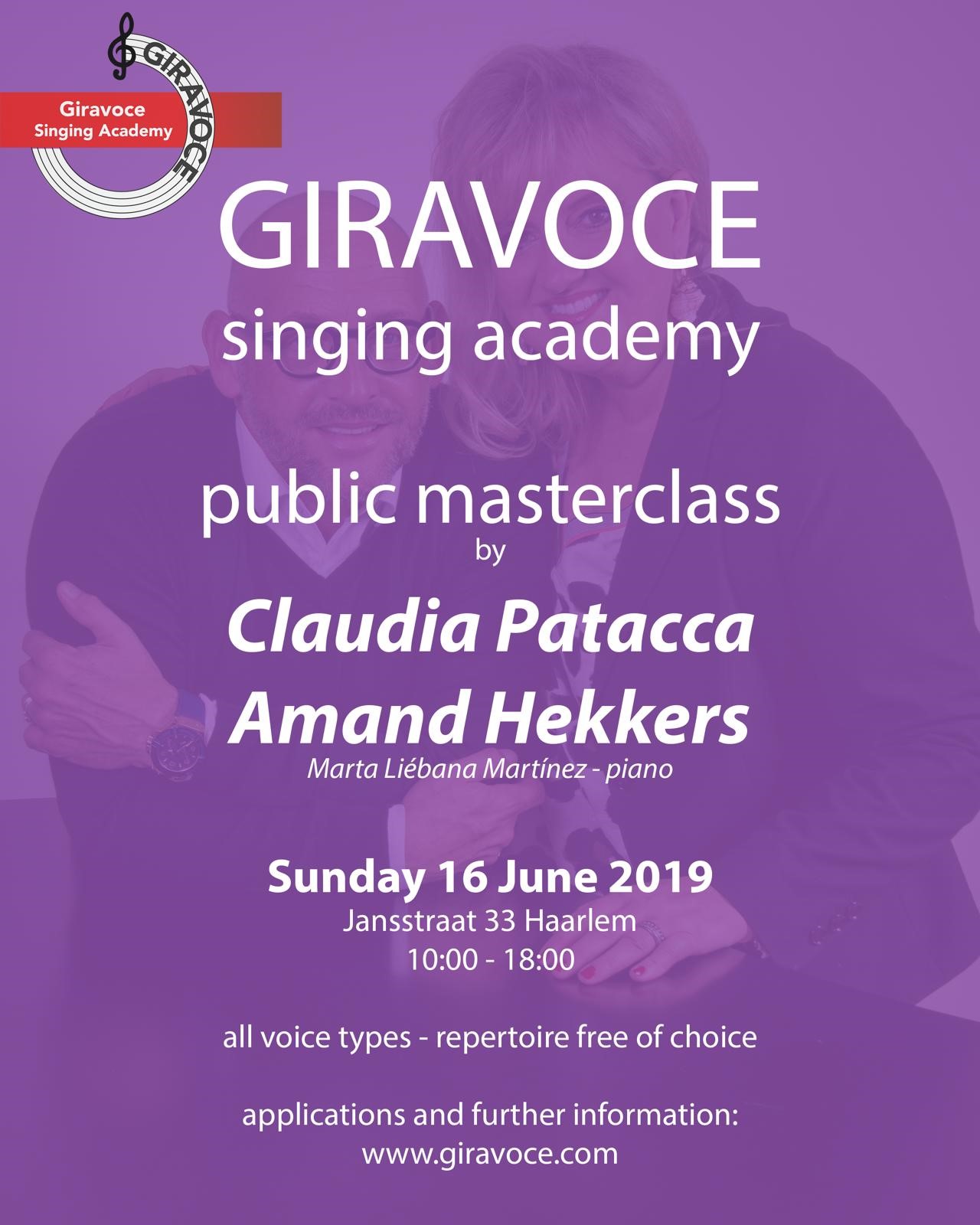 subcribe & costs: 150 euro ex tax (incl tax 181,50)
To subscibe or if you have questions please send an e-mail to claudia@patacca.nl
----------------------------------------------------------------------------------
Giravoce Opera Summer School July 2018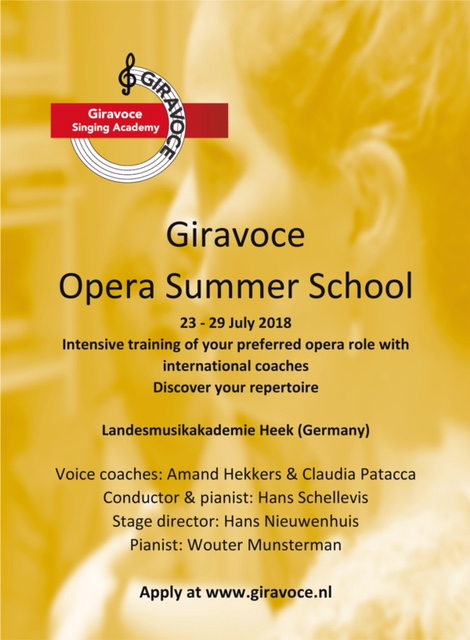 Giravoce Opera Summer School organizes an intensive role training course from 23-29 July 2018 at the Landesmusikakademie Heek in Germany. The Landesmusikakademie provides excellent facilities.
We offer an intensive opera program. You will work with internationally renowned and experienced singing teachers, stage director, conductor and pianists.
Hans Nieuwenhuis: stage director
Amand Hekkers tenor & Claudia Patacca soprano: professors of voice
Hans Schellevis: conductor, pianist and bel canto specialist
Wouter Munsterman: pianist
The course fee:
€900*,- This fee includes: all lessons and coachings, classes and performances, accommodation for 6 nights, breakfast, lunch and diner.
* This fee is based on a double room for two students. In case you prefer a single room, we charge an additional 90 euros for the 6 nights
*If you prefer to arrive one day earlier and/or depart one day later we can book you an extra night at your own costs.
*We will end the opera summer school with a concert on July 29th at 15.00H
*Check in time: July 23th at 12.00H. The program will start at 14.30H
To subscibe please send an e-mail to claudia@patacca.nl and let us know which opera role you prefer to work on.
--------------------------------------------------------------------------------------------------------
Operette Masterclass 4 februari 2017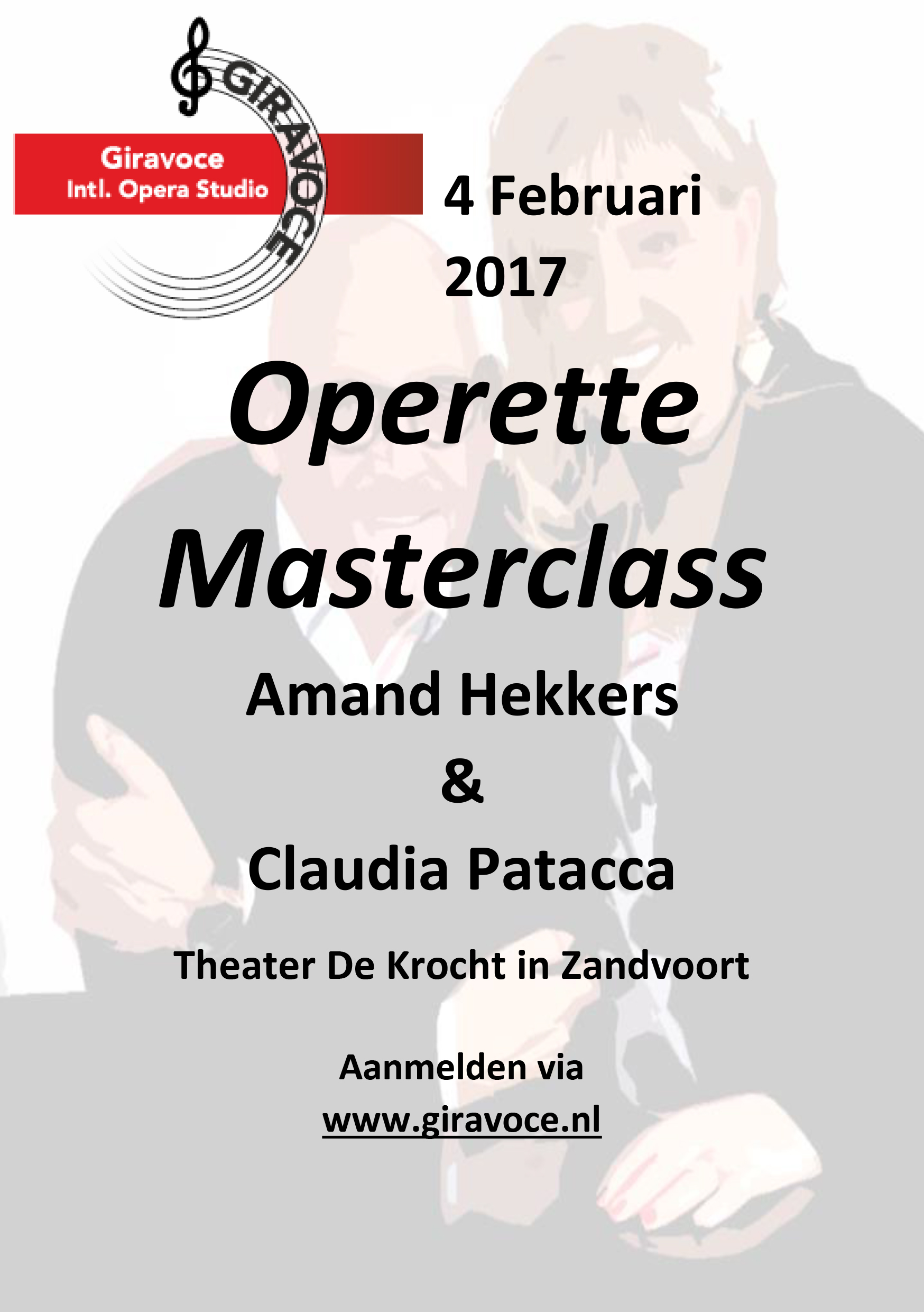 Ben jij amateurzanger, conservatoriumstudent of een professionele zanger en hou je van operette, meld je dan aan voor deze masterclass op zaterdag 4 februari 2017 via claudia@patacca.nl
Je favoriete operette aria('s) nog beter leren zingen o.l.v. twee docenten die beiden veel ervaring hebben in het operette vak.
Piano: Wouter Munsterman
Waar:
*Theater De Krocht, Grote Krocht 41 in Zandvoort http://www.dekrocht.nl
*Van 10.00 tot 17.00 masterclass door Amand Hekkers & Claudia Patacca
*Om 20.00 uur wordt de dag afgesloten met een openbaar Concert
Kosten deelname :
€ 181,50,- p.p (€ 150,- netto, 21% BTW :€ 31,50)
Publiek is tijdens de masterclass en het concert van harte welkom:
*passpartout hele dag: € 30,-
*per dagdeel: € 10,- (€ 20,- voor de hele dag, ex concert)
*alleen concert: € 15,-
-----------------------------------------------------------------------------------------------------------------
Past masterclasses
We are very excited to announce that our first Giravoce masterclass "No C too high" for Tenors & Sopranos April 24th 2016 at Akoesticum, was a big succes.
Pianist Gilbert den Broeder completed our masterclass. We worked all day with 2 tenors and 3 soprano's.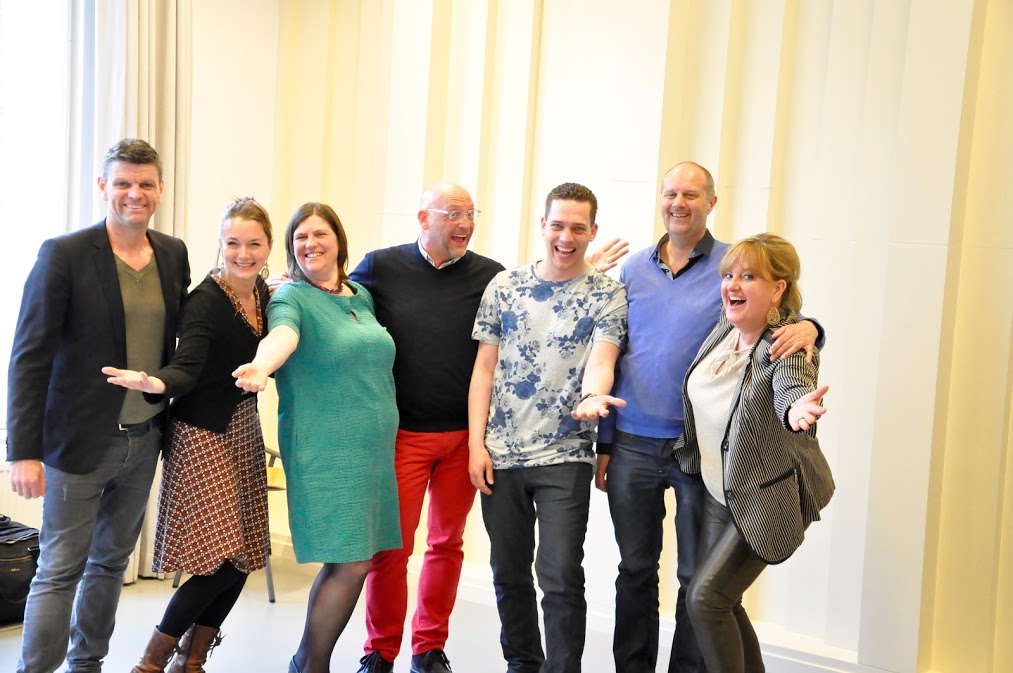 _________________________________________________________________
Claudia will give in the near future a masterclass at the Conservatorio di Musica G. Nicolini in Piacenza, Italy
Claudia
19-25 Februari 2018 recital & masterclass in Weimar at the Franz Liszt Hochschule für Musik
August 2016
Amand Hekkers gave a masterclass in France for the Orfeo Fundation
June 2016
Amand Hekkers will give a masterclass at Naples at the Conservatorio San Pietro a Majella, Italy
Mai 2016
Claudia Patacca will give a masterclass at The Malmö Academie of Music in Sweden
February 2016
Claudia Patacca will give a masterclass at The Estonian Academy of Music and Theatre in Tallinn, Estonia 25-26-27 February 2016
January 2016
Claudia Patacca will give a masterclass at The jazeps Vitols Latvian Academy of Music, in Riga, Lithuania 27-28-29 January 2016