Hans Nieuwenhuis Stage Director
Hans Nieuwenhuis studied law at the Vrije Universiteit in Amsterdam,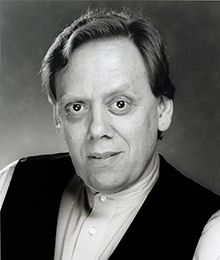 before devoting his professional life to the
theater as an actor, designer, writer and ultimately as a stage director. He assisted several renowned opera stage directors including Götz Friedrich, Harry Kupfer, John Cox, David Pountney, Lotfi Mansouri and John Copley and made his directing debut with the Netherlands Opera in 1979. He was a resident stage director for this company from 1979 -1984 and directed new productions in Amsterdam of La Bohème, Parsifal, The Merry Wives of Windsor, Rita, The Old Maid and the Thief (Menotti) and several world premieres.
His international career started in 1981 with the staging the USA premiere of Philip Glass' Satyagraha for the Brooklyn Academy of Music in New York and the Art Park Festival (Lewiston, NY). After that he directed more then 80 productions around the world. He worked for L'Opéra de Nice in France, The Canadian Opera Company, San Francisco Opera, Manitoba Opera, L'Opéra de Montreal, Opera Colorado, Long Beach Opera, Hawaii Opera Theatre, Western Opera Theater, Opera Omaha, Lincoln Center New York, Pacific Opera Victoria (Canada), Bangkok Opera and many other companies in Europe, Asia and North America. For L'Opera de Nice he staged new productions of Il turco in Italia and Der Zigeunerbaron and for the Canadian Opera Company he directed The Return of Ulysses, The Tales of Hoffmann, La Traviata, Tchaikovsky's Pique Dame and several world premiere productions. Fo For r San Francisco Opera's Merola Program and Western Opera Theater he staged a new Carmen. This production made an extensive tour throughout the United States and Japan.
Mr. Nieuwenhuis returned to the San Francisco Opera to direct a successful production of The Magic Flute. Further credits include Salome for Opera Colorado, Fidelio for Opera Omaha, The Magic Flute for the Festival Auvers-sur-Oise(France), Bluebeards Castle for Yale Opera, Cabildo (composed by Amy Beach, 1932) for Lincoln Center and Die Fledermaus for the OK Mozart Festival (Oklahoma), Opera McGill in Montreal and Opera Studio Nederland. He directed new productions of La Bohème for Opera Studio Nederland and Johann Strauss' Der Zigeunerbaron for Pacific Opera Victoria in Canada. In Thailand he directed the world premiere of Ayodhya by Somtow Sucharitkul for the Bangkok Opera to international acclaim. His production of Britten's Rape of Lucretia was also created for Bangkok Opera and thereafter performed for a Vietnamese audience in Hanoi. Mr. Nieuwenhuis has collaborated with many renowned conductors, including Richard Bonynge, Christopher Keene , Edo de Waart, Hans Vonk, Nicholas McGegan, Jean Fournet and Ton Koopman. Recent projects include Dido and Aeneas for Opera Zuid in Holland and L'Opera Royal de Wallonie in Belgium, Le Nozze di Figaro for Hawaii Opera Theatre, Die Fledermaus for International Opera Projects in the Netherlands and Belgium and Cosi fan tutte for Opera Studio Nederland
During the last three decades Hans Nieuwenhuis has devoted himself to aspiring young opera singers: he has taught and directed for the Canadian Opera Company Ensemble, the San Francisco Opera Merola Program, Curtis Institute of Music in Philadelphia, Yale University and Michigan University in the USA, McGill University in Montreal, the music conservatories in Utrecht, Amsterdam and Maastricht in the Netherlands, the Sichuan Conservatory and the Ninxia Conservatory in China and the Tchaikovsky Conservatorium in Moscow. He is also a regular guest teacher at the Opera Studio of the National Theatre in Tokyo and has given Master Classes in the Netherlands, USA, Thailand, Russia, Germany, Hungary, Croatia, Italy, France, Canada, Austria, Belgium, Estonia, Japan, Ukraine, Oman and China. Recently Mr. Nieuwenhuis returned to Yale University to direct two opera evenings and he worked again with singers of the New National Theatre Opera Studio in Tokyo. Currently he works with young singers in the Netherlands, France, Belgium ,Estonia, New York, China and Canada and for summer programs in France and Italy. He is also active as a guest teacher, speaker, casting advisor and opera consultant. This season he directed La Voix Humaine by Poulenc in Haarlem, The Netherlands.
Hans Nieuwenhuis has been a jury member at many prestigious singers competitions: the Hans Gabor-Belvedere Competition in Vienna, the Marmande Competition in France, the Arena di Verona Competition in Italy, the Jeunes Ambassaseurs Lyrique in Canada, the Young Opera Singers Competition in Izmir, Turkey, the Klaudia Taev Competition in Estonia and several other competitions. Last season he was a judge for the Dutch IVC Competition in Den Bosch and every year he is member of the Selection Committee for Les Jeunes Ambassadeurs Lyriques in various cities in Canada.
Mr. Nieuwenhuis was founder and, from 1992-2011, General Director of OPERA STUDIO NEDERLAND in Amsterdam. The Opera Studio, funded by the Dutch government, offered an extensive training program for a select group of young singers from around the world. Mr. Nieuwenhuis is currently General Director of the Orfeo Foundation, an international organization established to promote collaboration between young artists programs around the world and to advising young opera singers. More information can be found on www.orfeofoundation.org
In April 2012 Hans Nieuwenhuis was appointed Knight of the Order of Orange-Nassau by Her Majesty Queen Beatrix of the Netherlands for his work in opera, theater and music.
Amsterdam, January 2016
http://www.hansfmnieuwenhuis.nl